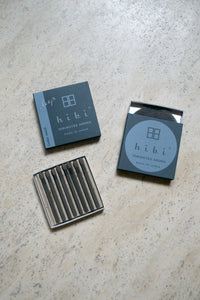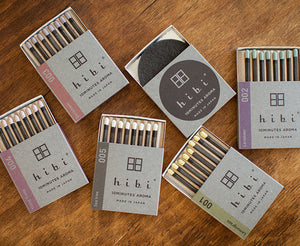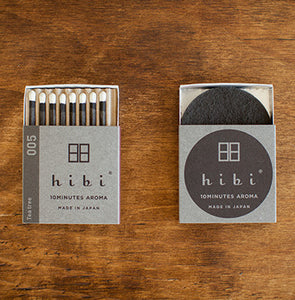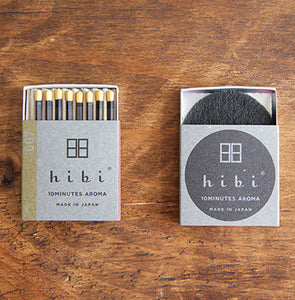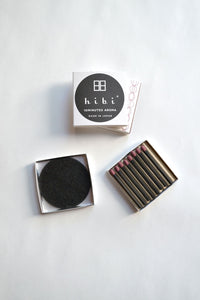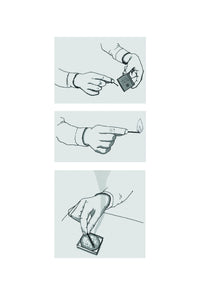 Hibi 10 Minutes Aroma
Incense Matches
The brand name hibi means 'day to day', or daily, in Japanese. It was given with the hope that you would keep it around you every day and freely enjoy its fragrance, matching each day's mood or occasion. Collaboration between Kobe Match Co. (and Daihatsu Co (both 80 yr. history)
8 sticks / with exclusive mat
000- Japanese Cypress ( now available in a box of 30 )
A balancing woodsy, earthy fragrance.
- For the times you need inward focus and calm.
001- Lemongrass
The sweet and sour/bittersweet scent of lemon and something that reminds you of a green meadow are freshness itself.
- For the times when you want to restore and refresh yourself.
005- Tea Tree  ( now available in a box of 30 )
A Spicy fragrance with cool freshness.
– For the times when you want to calm your frustrations or feeling of depression and feel refreshed.
007- Yuzu
A refreshing citrus aroma diffusing crisp fragrances under the wintry sky.
– Ideal for warming and relaxing the mind and body numb with cold.
deep- Ambergris
-Creating a sensual moment through a fusion of sweetness of oriental passion and wildness of leather
deep- Cedar Wood   ( now available in a box of 30 )
-Awakening your inner-strength and deep wisdom with a cool fragrance of woods reminding you of the crisp air of a cedar forest
deep- Oak Moss
-Fragrance of a moss growing gently on oak trees of a deep forest, taking you to a mysteriously warm and sober world