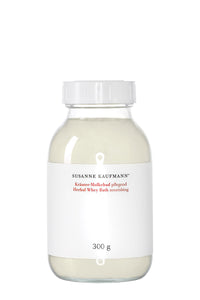 Susanne Kaufmann
Herbal Whey Bath Nourishing
The Susanne Kaufmann herbal whey bath nourishing with active ingredients derived from lime blossoms and camomile sustainably calms and nourishes the skin. The whey has a detoxifying effect and regulates the PH balance of the skin. Lime blossoms and camomile are known for their warming and balancing properties. The nourishing herbal whey bath pampers and protects the skin..
Five to seven tablespoons are enough for a complete, relaxing bath. Enjoy the beneficial, nourishing whey bath for 10 to 20 minutes at 37° C.Glass jar, 250ml/8.4 fluid ounces
Susanne Kaufmann organic treats combine modern science and the active ingredients of the Alpine plant world to create a highly efficient care system. The natural, innovative and sensitive products are produced in a small operation in the Bregenz Forest according to ecological principles and now have enthusiastic users around the world. Each individual batch is tested and then filled, sealed and packaged by hand in glass jars.