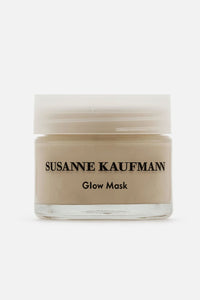 Susanne Kaufmann
Glow Mask
 A revitalising face mask created using the finest natural plants and flowers to brighten and regenerate skin, leaving it looking luminous and energised. With its gentle exfoliating effect, the Glow Mask reveals an even looking, radiant complexion.
This product: stimulates inner glow, cell metabolism, corrects unevenness and promotes skin cell renewal.
This radiance-infusing mask helps to brighten the skin, leaving it looking glowing with vitality. Formulated with an active blend of herbs and botanicals including exfoliating papaya powder, adding a gentle exfoliating effect to the mask, removing dull skin as well as minimising pores; red date seed extract, known for their antioxidant properties to help skin look visibly rejuvenated; and raspberry fruit extract to help replace lost moisture.

In addition to the radiance-boosting properties of the much-loved Glow Mask, the ginger root extract and caffeine stimulate cell metabolism and promote collagen production, resulting in a plumping effect to smooth out fine lines and wrinkles.
Due to the use of active, natural ingredients, the appearance of this product may vary.
Susanne Kaufmann organic treats combine modern science and the active ingredients of the Alpine plant world to create a highly efficient care system. The natural, innovative and sensitive products are produced in a small operation in the Bregenz Forest according to ecological principles and now have enthusiastic users around the world. Each individual batch is tested and then filled, sealed and packaged by hand in glass jars.
50ml (1.7 fluid oz)