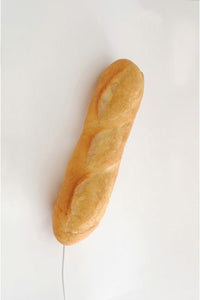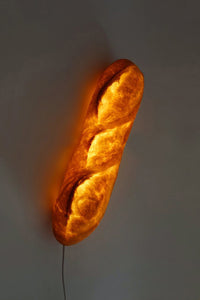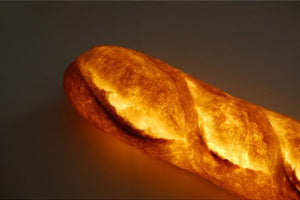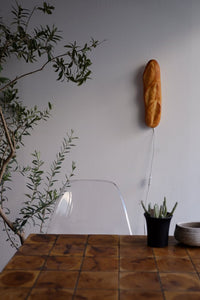 Pampshade
Batard Bread Lamp
We've had one in our kitchen for some time and it's glow is beautiful and makes me so happy to see hanging by the aprons.
Slightly shorter than the classic baguette yet equally mouthwatering to the eyes, this lamp provides a gentle ambient light source and is designed to be displayed on a table or hung on a wall. It's coated with an anti-bacterial and anti-fungal to protect and seal the lamp for years to come. 
The bread is carefully hollowed out during the manufacturing process, resulting in some minor cracks or small holes that further add to the lamp's rustic, artisanal character. Please note that these are not considered to be defects.
Materials:

 Bread flour, cake flour, yeast, LED lights, power cord.




Size:

 Approximately 15" L x 4" W x 2.25" H

Variations: Because each Pampshade is made from real bread, there will be natural variations in color, size, and shape.

Luminosity:

 This Pampshade can softly illuminate a room of approximately 13 square meters (140 square feet). 

Important: 

This product is fragile and should be handled delicately with care. 

Operation Instructions: 

To turn on/off, just tap the power button. To adjust the brightness (dimmer switch) to your liking, press and hold the power button.