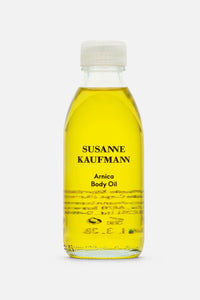 Susanne Kaufmann
Arnica Body Oil
A nourishing body oil developed to moisturise skin, reduce the appearance of stretch marks and scars and to improve skin elasticity for a velvety soft skin feel.
This product was previously known as Stretch Mark Oil.
-Strengthens and protects from stretch marks
-Provides extra moisture as the skin stretches
-Strengthens your skin's metabolism
Creating soft, smooth, even-toned skin, this body oil is enriched with a gentle blend of arnica extract, together with almond oil, jojoba oil and wheat germ oil, rich in vitamin E. Essential fatty acids protect against moisture loss and leave skin visibly smoother. Ideal for use throughout pregnancy.
Perfect for all the family, our Arnica Body Oil is suitable for children over three months.
Due to the use of active, natural ingredients, this product may appear cloudy.
100ml (Net wt. 3.3 fl oz)

Susanne Kaufmann organic treats combine modern science and the active ingredients of the Alpine plant world to create a highly efficient care system. The natural, innovative and sensitive products are produced in a small operation in the Bregenz Forest according to ecological principles and now have enthusiastic users around the world. Each individual batch is tested and then filled, sealed and packaged by hand in glass jars.