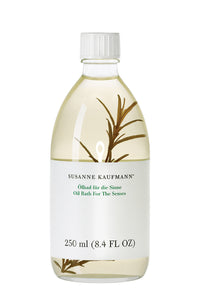 Susanne Kaufmann
Oil Bath for the Senses
The Susanne Kaufmann oil bath for the senses, consisting of the oils of the ylang-ylang tree, patchouli plant and lavender, is a relaxing experience after a strenuous day. The velvety consistency and beneficial aroma of real essential oils nourish and pamper the skin and the senses. Essential oils protect the skin and protect against becoming dried out. The oil bath for the senses is very compatible with the skin.
30 ml results in a complete and luxurious bath. Enjoy the beneficial, essential scents of the oil bath for the senses for 10 to 20 minutes at 37° C.
Glass jar, 250ml/8.4 fluid ounces
Susanne Kaufmann organic treats combine modern science and the active ingredients of the Alpine plant world to create a highly efficient care system. The natural, innovative and sensitive products are produced in a small operation in the Bregenz Forest according to ecological principles and now have enthusiastic users around the world. Each individual batch is tested and then filled, sealed and packaged by hand in glass jars.