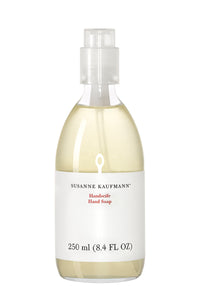 Susanne Kaufmann
Hand Soap
The Susanne Kaufmann hand soap cleans gently and protectively without drying out the hands. Valuable wheat germ oil, aloe vera and active ingredients derived from the horsetail plant pamper the severely stressed skin of the hands. It leaves behind skin that feels velvety smooth and tender. The pleasantly fresh aroma makes it an ideal skin-friendly soap for the whole family. The tensides in the hand soap are obtained from sugar. They are especially skin-friendly and PH-neutral. The cleaning substances are biodegradable and have been obtained from renewable resources.
For the daily cleaning of the hands. Because of its natural ingredients, it may become slightly cloudy.
Glass jar, 250 ml/ 8.4 oz
Susanne Kaufmann organic treats combine modern science and the active ingredients of the Alpine plant world to create a highly efficient care system. The natural, innovative and sensitive products are produced in a small operation in the Bregenz Forest according to ecological principles and now have enthusiastic users around the world. Each individual batch is tested and then filled, sealed and packaged by hand in glass jars.